With Support, Nebraska's Farmers Can Deliver Climate Solutions
Submitted by Kelli Jorgensen, Omaha
As the daughter of a farmer from Axtell, NE, I am very proud and always in awe of the time and effort our farmers put in with very little thanks or acknowledgement from many who just take their work for granted. But climate change, with its unpredictable precipitation, rising heat, and extreme weather events, is bringing uncertainty to our country and our Nebraska communities, including our agriculture sector. It's time for Congress to act responsibly and enact legislation that will combat climate change and give farmers more support.
I am encouraged by a bipartisan group of Senators and House members who have introduced the Growing Climate Solutions Act. This legislation provides incentives for farmers, ranchers and foresters to engage in sustainable practices by helping them access lucrative carbon credit markets. This will make it easier for these groups to recoup costs for reducing emissions and carbon. The bill gives them assistance in developing practices that make them eligible for the credits.
I want to thank House Representatives Don Bacon for introducing this bill in the House, and Representative Fortenberry for co-sponsoring the bill. I also want to thank Senator Fischer for her recent co-sponsorship of the bill in the Senate, and want to ask Senator Sasse and Representative Smith to support it as well. We all need to be part of the solution for current and future generations. It's not too late.
Below is a collection of support from CCL and other groups supporting the Growing Climate Solutions Act and it's sponsors, most notably being CD-2 U.S. Congressional representative Don Bacon.

Great op-ed in the @sltrib from @MarkReynoldsCCL and @jimwightman12 about the Growing Climate Solutions Act to help farmers be part of the #climatechange solution.

@SenatorBraun @SenStabenow @RepSpanberger @RepDonBacon https://t.co/OfEieMag5y

— Citizens' Climate Lobby (@citizensclimate) August 18, 2020
Farmers have always been adapters, great innovators. But shifting climate patterns have brought a whole new range of challenges, needing new solutions. The Growing Climate Solutions Act, supported by @SenatorFischer and @RepDonBacon is a great step!https://t.co/VnZ9ssCbC2

— Citizens Climate Lobby – Omaha (@CCLomaha) November 25, 2020
#ClimateAction: please call, email, tweet, or send a good old fashioned letter of thanks to Rep. Don Bacon for introducing the Growing Climate Solutions Act, a bill that can help farmers nationwide, and reduce carbon emissions. #GrassrootsClimate https://t.co/i36Cap0FFP

— Citizens Climate Lobby – Omaha (@CCLomaha) July 15, 2020
And thank you @RepDonBacon and @JeffFortenberry for cosponsoring the Growing Climate Solutions Act! We'd love to see @SenatorFischer and @SenSasse cosponsor the Senate version of this bill.

— Citizens' Climate Lobby (@citizensclimate) August 28, 2020
Thank you for signing on as a cosponsor of the Growing Climate Solutions Act, @SenatorFischer! This is an important step toward solving climate change in a manner that supports Nebraska's farms and ranches. #bipartisanclimate https://t.co/QZMvU7aoHM

— CCL Nebraska (@CCL_Nebraska) November 20, 2020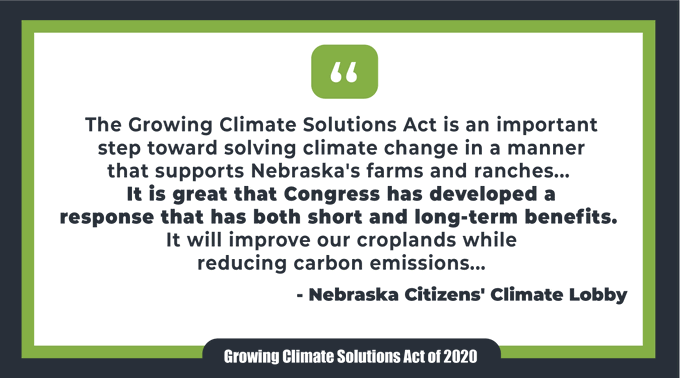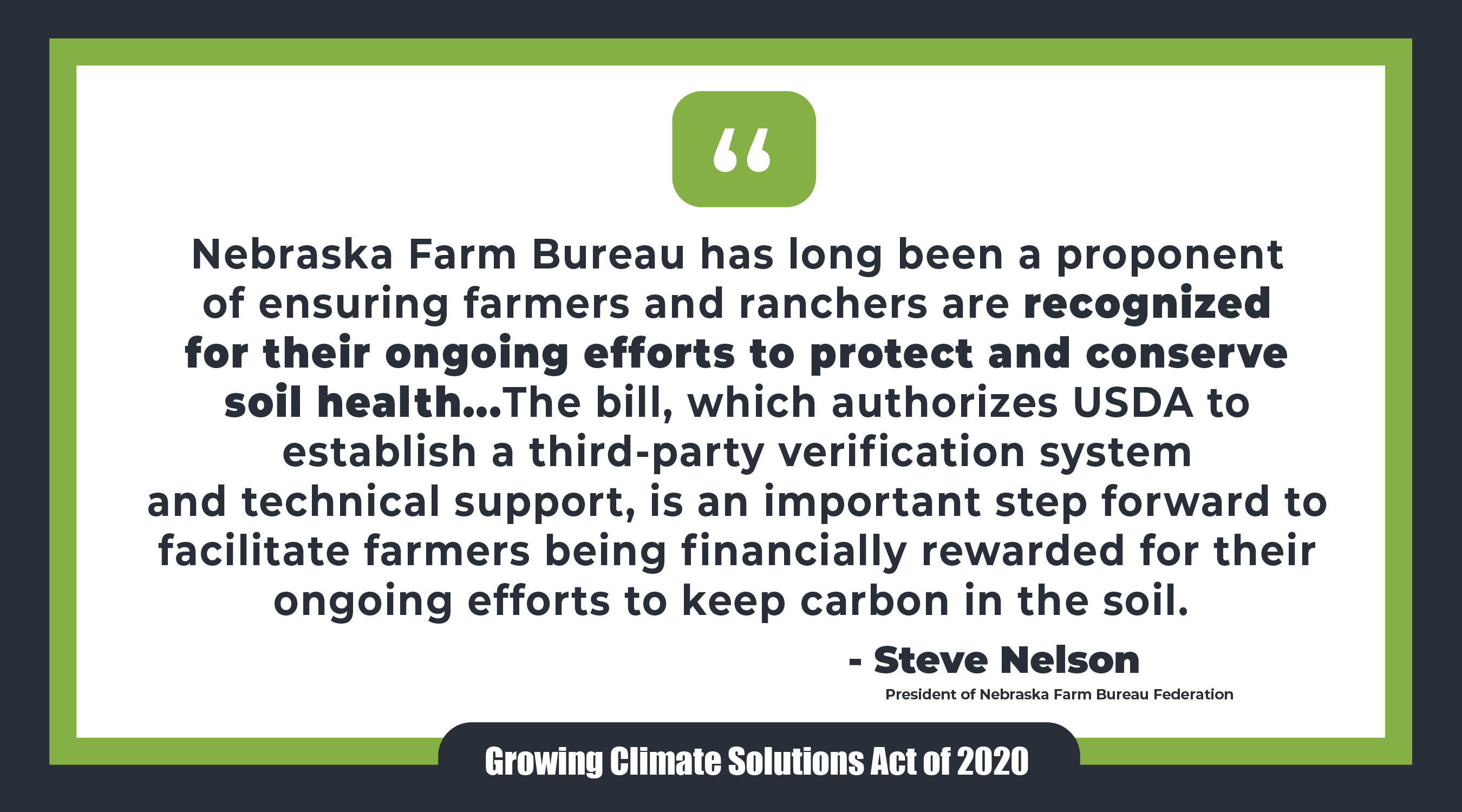 In Support of The Growing Climate Solutions Act (S.3894/H.R.7393) https://t.co/DNnN1dIo6Y via @SenatorBraun @LindseyGrahamSC @RepDonBacon @RepStefanik @JeffFortenberry @RepJimBaird @RepJohnKatko @RepJohnCurtis

Letter from @CRESforum @ACC_National @ConservAmerica @NTU

— R Street Institute (@RSI) July 29, 2020
Thank you @RepSpanberger, @RepDonBacon for introducing the Growing Climate Solutions Act in the House & showing agriculture's role in fighting #ClimateChange can be bicameral, bipartisan & beneficial to producers, industry & the environment.

— American Farmland Trust (@Farmland) July 1, 2020
https://citizensclimatelobby.org/growing-climate-solutions-act-moves-forward-with-hearing-house-version/